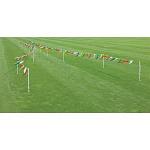 XC Timing can be done 3 ways:
1. Tag method. Purchase bib numbers or tags with bar codes (or add labels with bar codes). Get a downloadable watch like those in our https://www.vsathletics.com/store/Basic-Cross-Country-Timing-Kit.html String the tags when the runners finish. Scan the tags into the software in finish order, import the times from the watch, spot check and you are done.
2. With a Lynx timing system, you can add hip numbers to your runners so they can be identified on the camera. Add an Identilynx front facing camera for better identification.
3. an RFID timing system can be used. These system can feed data to software such as Easymeet and other programs.